Discover The Root Emotional Cause Of Your Physical Pain So You Can Heal From The Inside Out
The Pain Free Process is going to teach you the science of your mind body connection so that you can uncover the specific emotional baggage responsible for your physical pain. This self paced course allows you to FINALLY live a pain-free life.

Returns to $497 when the countdown timer runs out!
This Is The MISSING LINK When It Comes To Pain:
"Through your workshop, I healed chronic shoulder and neck pain. Eternally grateful for the wisdom you share!!"
"The biggest win for me was reading the list that links physical symptoms to specific emotional issues. I finally found some clarity as to the emotional issues that have been blocking my recovery."
It's no wonder our clients get the results they have been looking for, because they're finally DEALING WITH THEIR PAIN AT THE EMOTIONAL LEVEL. They are resolving the CAUSE of their pain rather than just treating the SYMPTOMS
If You Have Tried Everything To Get Out Of Pain, This Program Is 100% For You
Massage, naturopathy, chiropractic adjustments, Bowen therapy, acupuncture, homeopathy, supplements galore, physical therapy, anti-inflammatory diets, elimination diets, hormone replacement, pilates, core strength exercises, trigger point therapy, removing heavy metals, cutting out all sugar/gluten/dairy, rehab, stretching, hot yoga, normal yoga, turmeric lattes, icebaths, chinese herbs, fasting…
A 'Hopeless Healer' is someone who is struggling with pain, that has desperately tried all kinds of treatments (and spent thousands of dollars) but nothing has worked for them.

The reason nothing has worked for the Hopeless Healer is not because they haven't tried enough methods, or there is 'something wrong' with them it is because they have been looking for the answers in all the wrong places...
"My Pain Is Physical. Not Emotional"
If this thought has crossed your mind, you would not be alone. The majority of 'Hopeless Healers' at some stage believed that the cause of their pain MUST be physical.
In fact, most traditional methods of dealing with pain operate from this belief also, and it is the very thing that keeps you and so many other people around the world trapped when it comes to living with pain.
By the way, I used to have this belief also.
As a chiropractor, I was taught that pain is PURELY physical problem, and needs a physical solution.
When patients came into my office struggling with pain, I looked ONLY for the physical cause.
Changes in alignment, weak muscles, bad nutrition, breakdown of cartilage, bad posture from too much sitting, tight muscles, inflammation...
Sure some people got better from just treating the physical, but most didn't. Or they would get *some* results, but have to come back every fortnight just to 'keep the pain at bay'.
Personally, for YEARS I too struggled with near constant pain and unexplained injuries. I was a Hopeless Healer.
I tried EVERY type of physical treatment/method/therapy/diet under the sun to try heal my pain but the more I tried, the more hopeless I felt...Nothing worked for me.

It wasn't because I wasn't trying hard enough, or getting enough treatments, it is because I was barking up the wrong tree. And I am guessing the same applies for you.
And let's be honest here...
THE TRADITIONAL WAY OF TREATING PAIN IS COMPLETELY BROKEN...
Otherwise why would you be reading this, right?
It's not just you who is struggling, 1 in 5 people from around the world live with CHRONIC PAIN. That number only gets worse as we get older with 1 in 3 people over the age of 65 living with pain DAILY.
These people are trying all of the traditional ways of pain management (and spending thousands of dollars in the process) but are still struggling.
Now, if pain was purely a physical thing, surely we would have figured out how to fix it by now? But the fact that you, and so many people around the world live with pain tells me we haven't even come close.
The reason you and so many other people around the world are stuck with pain, feeling helpless because 'nothing is working' is because you are missing the MOST IMPORTANT aspect when it comes to the real cause of you pain….
Modern science is only now discovering is what ancient cultures have known forever…
...that pain starts in the

MIND

and not in the BODY.

The unexpected stress you have experienced, and old emotional baggage you carry around with you is the root cause of pain.

In 2014 I started studying something called German New Medicine, which is the science of the mind body connection. I began to live a pain free life once I started to resolve my own emotional baggage, and do the inner work.

Since then, I have helped hundreds of people from all around the world resolve their pain by dealing with the root emotional issue.


This is the new way of dealing with pain.

The Pain-Free Process is the first of its kind teaching you how to uncover the exact emotional issues that are responsible for your pain. By using this knowledge inside the self paced course, you can begin to heal yourself from the inside out.
It is the exact same knowledge and information I teach my 1:1 clients so they can understand and heal their pain.
See that countdown timer? If you enrol in the Pain-Free Process before it ends, you get this program for just $197. After that it returns to its normal price of $497.
So, right now you have a choice, you can keep desperately searching for the answers to your pain in another supplement, or another treatment and continue to operate from the old, outdated, traditional way of pain management (which is NOT working)...

Or…

You can stop being a Hopeless Healer and join the Pain-Free Process, using the same information that has helped countless people from around the world live a pain free life.

If you chose the second option, nice work! Click the link below to enrol.
I AM READY TO HEAL!
If The Old Way Of Dealing With Pain Isn't Working For You, Are You Ready For The

NEW WAY

?
✅ Discover The Root Emotional Cause Of Your Physical Pain
✅ Understand the hidden language of your body and mind to find your blind spots
✅ Learn how to uncover the (subconscious) emotional issues that have been causing your pain
✅ No longer 'Fight Your Body' but instead start working with it
✅ Help you to realise that your body is working for you, not against you

Apply the science that is German New Medicine (GNM) to find answers to your pain
The Pain Free Process is the exact same step-by-step process I have used to help hundreds of people get out of pain by finding the emotional/stress cause.

GNM is a complex science that has taken me years to study and understand. The Pain Free Process breaks down this science into easy to digest videos that give you the understanding and then guide you to find the emotional cause of your pain.

This process has helped hundreds of people from all around the world overcome pain when nothing else had worked for them.

In this 13 module self-paced program, I will guide you through each of the 6 steps of The Pain Free Process as if you were sitting with me in a 1:1 consultation.

If you are someone who has struggled to overcome pain, it is almost certainly because you have not found the emotional cause. This process will help you find the answers you need to heal.
When You Heal Your MIND
Your BODY Will Follow
If you are tired of constantly feeling helpless and relying on treatments and supplements just to keep the pain at bay, this program is going to empower you, and help you deal with the real issue, your unresolved emotional stress.
Becoming A Mind Body Master Can Change Your Life,



But Don't Take Our Word For It...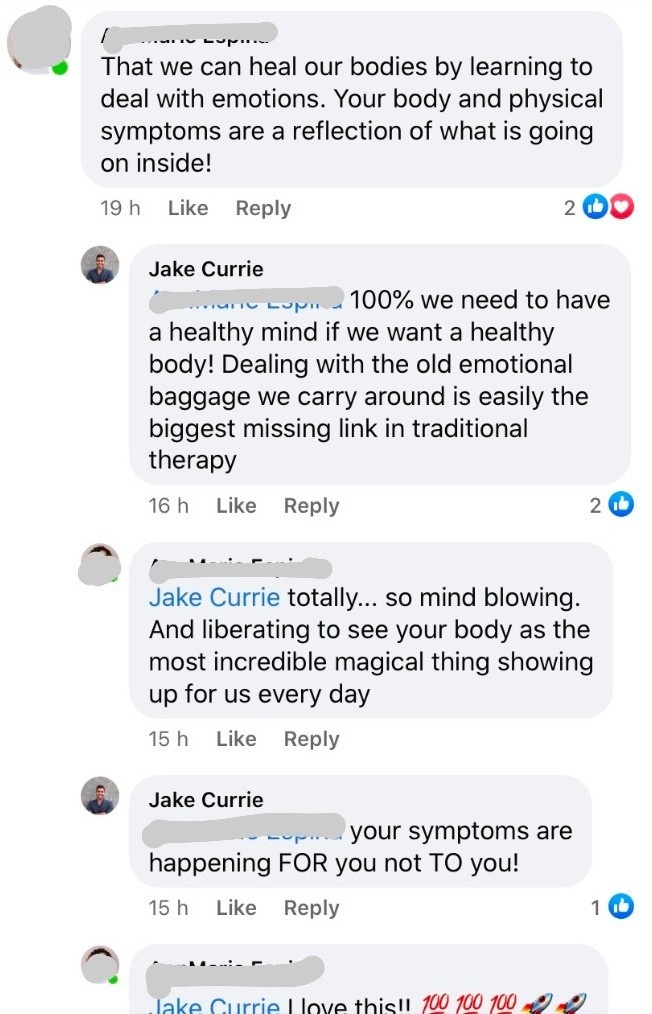 See whats waiting for you inside once you sign up..
13 detailed video trainings structured in a way that allows for ultimate retention and impact.
Each module will build on the last providing you with many personal insights as you look at your health (and life) from a new perspective.
The Pain Free Process is self paced, so you can pick it up at anytime, and revisit as different pains arise for you.
Your Modules
Phase 1: The Mind Body Foundations
Phase 2: The Emotional Cause of Pain
Back Pain
Neck Pain
Shoulder Pain
Hip Pain
Knee, Ankle & Foot Pain
Elbow, Wrist and Hand Pain
Generalised Pain, Fibromyalgia, Chronic Fatigue
Phase 3: The Pain Timeline
Phase 4: Reframe + Release
Phase 5: Triggers + Flare Up's
Phase 6: The Healing Mindset
PLUS!!
3 bonuses that you will love and will take your HEALING to the NEXT LEVEL! The Pain Guide displays 20 of the most common pain points and the emotional links directly associated with each pain.
That was really good, thank you! Getting to the underlying emotional cause of my physical injuries is something I've become interested in exploring, so when your information popped up on my Facebook page, I was keen to follow through. I also listed to your Podcasts.
The Guide is very helpful. I had lower back issues early in 2020 (carried my kayak like it was a washing basket). It coincided when work. I appreciate your professional, warm and knowledgeable approach.
- PFP Member
LIMITED TIME BONUS:
Group Coaching Call With Jake Currie (value: $499)
These group calls are usually reserved for Members of the Mind Body Masters Program Only. However, when you sign up before the countdown runs out you will get a bonus group coaching call, where Jake can coach you through the emotional issues causing your pain. These sessions are incredibly valuable and this bonus alone is worth TWICE as much as the entire Pain-Free Process. Limited time only!!
Our 100% 30 Day Money Back Guarantee
So you can rest easy at night.
Our #1 priority is ensuring you have an amazing and transformative experience. This program will work for you, if YOU work for it. But by the end of the program, if you are not 100% happy, your money will be refunded 100%. The only condition is that you have done the work; you have viewed and gone through every single module inside the course and submit a completed printed cheatsheet that you have worked through at least one pain with.

This is not the kind of program you can just sit back and absorb information, it requires you to look within and do the work. I guarantee that if you show up, you will get the results you are looking for.
Find the emotional cause of your pain so you can live pain free
(Investment returns to $497 after the countdown timer below ends)
I know this program is for me, but I am not sure I can afford it
I am worried that being doing this work it will bring up old trauma.
How long do I have to complete this course?
I don't have any pain right now, will the Pain Free Process benefit me?
What if I am not if pain but have a different condition that I want to work on?
Will I get the support that I need to learn and implement this work?
I am already in many other programs and courses, should I join?
I still have a question, where can I get in touch?
Meet Jake Currie
Ba. HSc. M.Clin.Chiro
Chiropractor, Hypnotist, and Founder of Mind Body Masters
Growing up in constant pain, I became a chiropractor to find answers to my own troubles.
While practicing I made a great discovery of what the real cause of pain (and other chronic illness) was - it all started in the mind.
I realized that physical pains and problems were not physical at all but emotional. What stood in the way of my own healing was not a lack of some supplement or treatment, but the emotional baggage I held onto.
Once I was able to deal with the emotional root cause, my body started to heal.
In 2018 I decided to stop practicing and sell my successful private practice in Noosa, Australia to pursue helping people heal from the inside out.
I now help thousands of people all around the world tap into this healing ability by mastering their mind-body connection.
Find the emotional cause of your pain so you can live pain free