Discover the

REAL CAUSE

Of Your Pain So You Can Heal And Get Your Confidence Back

The Pain Free Process is going to teach you the science of your mind body connection so that you can uncover the specific emotional stressors responsible for your physical pain. This self-paced course allows you to FINALLY live a pain-free life.

The Pain Free Process is $497
Sign up and receive $300 off
Massage, naturopathy, chiropractic adjustments, Bowen therapy, acupuncture, homeopathy, supplements galore, physical therapy, anti-inflammatory diets, elimination diets, hormone replacement, pilates, core strength exercises, trigger point therapy, removing heavy metals, cutting out all sugar/gluten/dairy, rehab, stretching, hot yoga, normal yoga, turmeric lattes, icebaths, chinese herbs, fasting…
Just because you've tried everything, does

NOT

mean you are broken!
The fact you are reading these words tells me you are struggling with some kind of pain that no one has been able to help you with, at least not for long.
You know, the kind of pain that stops you in your tracks and causes you to put life on hold?

Well, what I am here to tell you is that you my friend, are not broken, you just haven't dealt with the REAL cause of your pain.

Unresolved stressful events from your past.

You see, modern science is now starting to understand what ancient cultures have known forever, that PAIN starts first in the MIND. The old emotional baggage you carry is impacting your body!
Yes, even if your pain started from a physical injury, this problem can stem from the mind, especially if the injury has taken longer than a couple months to heal.
The reason nothing has worked for your pain the way you would like it, is because most traditional therapies focus only on changes in the BODY, ignoring the MIND.

This is like having a flat tire, IGNORING the nail in the rubber, and hoping things will get better by re-inflating the tire every week.

If you are ready to deal with the REAL CAUSE of your pain, discover a NEW PERSPECTIVE of health that does not leave you fearful and frustrated with your symptoms the Pain Free Process is exactly what you have been looking for.

Click below to see what is included and get instant access to this self paced program!

I AM READY TO HEAL!
This Is The MISSING LINK When It Comes To Pain:
"Through your workshop, I healed chronic shoulder and neck pain. Eternally grateful for the wisdom you share!!"
"

I completed your Pain Free Process and resolved my lower back pain I've had for 2 years and was just blown away. Also helped a friend with her hip pain. Amazing!
It's no wonder our clients get the results they have been looking for, because they're finally DEALING WITH THEIR PAIN AT THE EMOTIONAL LEVEL. They are resolving the CAUSE of their pain rather than just treating the SYMPTOMS
If The Old Way Of Dealing With Pain Isn't Working For You, Are You Ready For The

NEW WAY

?
✅ Discover The Root Emotional Cause Of Your Physical Pain
✅ Have a NEW and empowering perspective of health and your body
✅ Understand the hidden language of your body and mind to find your blind spots
✅ Learn how to uncover the (subconscious) emotional issues that have been causing your pain
✅ No longer 'Fight Your Body' but instead start working with it
✅ Help you to realise that your body is working for you, not against you

Apply the science that is German New Medicine (GNM) to find answers to your pain
The Pain Free Process is the exact same step-by-step process I have used to help hundreds of people get out of pain by finding the emotional/stress cause.

GNM is a complex science that has taken me years to study and understand. The Pain Free Process breaks down this science into easy to digest videos that give you the understanding and then guide you to find the emotional cause of your pain.

This process has helped hundreds of people from all around the world overcome pain when nothing else had worked for them.

In this 13 module self-paced program, I will guide you through each of the 6 steps of The Pain Free Process as if you were sitting with me in a 1:1 consultation.

If you are someone who has struggled to overcome pain, it is almost certainly because you have not found the emotional cause. This process will help you find the answers you need to heal.
When You Heal Your MIND
Your BODY Will Follow
If you are tired of constantly feeling helpless and relying on treatments and supplements just to keep the pain at bay, this program is going to empower you, and help you deal with the real issue, your unresolved emotional stress.
"But My Pain Started With A Physical Injury, It Is Not Emotional"
Yes absolutely, injuries can happen from a physical cause. But when they fail to heal chances are there is a stress link also. I have created a check list below, if you answer YES to 2 or more of these questions chances are your pain has both a physical cause AND an emotional link, and nothing will change until you deal with the root emotional cause.
TAKE THE CHECKLIST QUIZ BELOW
Is your pain is worse in the morning?

Is your injury not responding to traditional treatments?

Are doctors and healthcare practitioners unsure why you are still in pain?

Does your pain 'flare up' at least twice per year?

Were going through a stressful period when you injured it?

Are you very hard on yourself?

Has this pain been around for longer than 2 months?

Do you seem to get lots of 'Unexplained' injuries

Does your pain get worse when you are stressed?
Yes, this is me...
The Pain Free Process Can Change Your Life,



But Don't Take Our Word For It...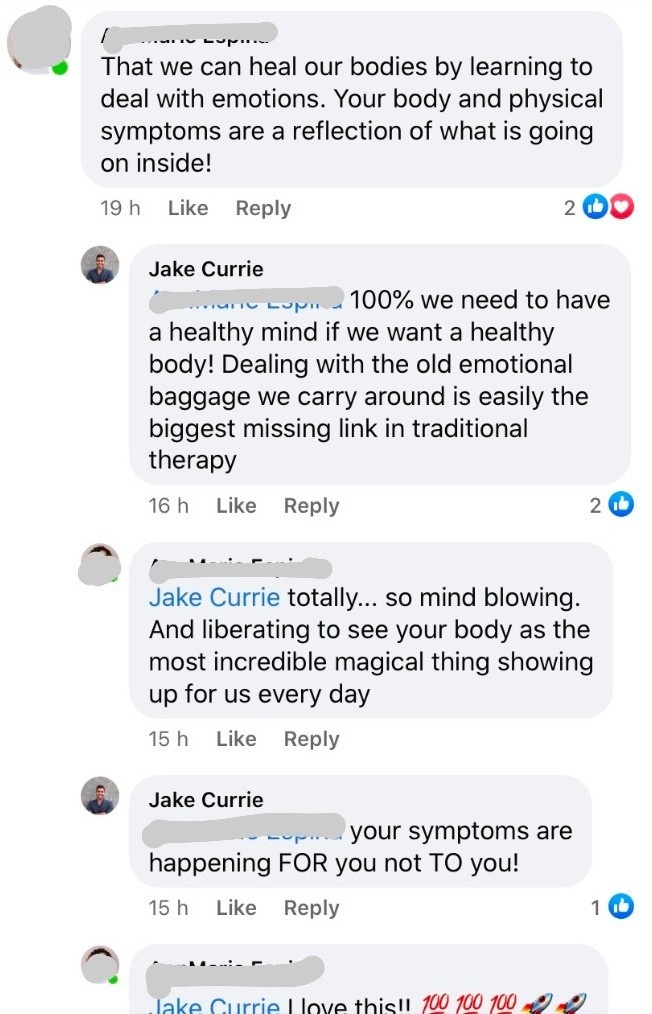 See whats waiting for you inside once you sign up..
13 detailed video trainings structured in a way that allows for ultimate retention and impact.
Each module will build on the last providing you with many personal insights as you look at your health (and life) from a new perspective.
The Pain Free Process is self paced, so you can pick it up at anytime, and revisit as different pains arise for you.
Your Modules
Phase 1: The Mind Body Foundations
Phase 2: The Emotional Cause of Pain
→ Back Pain
→ Neck Pain
→ Shoulder Pain
→ Hip Pain
→ Knee, Ankle & Foot Pain
→ Elbow, Wrist and Hand Pain
→ Generalised Pain, Fibromyalgia, Chronic Fatigue
Phase 3: The Pain Timeline
Phase 4: Reframe + Release
Phase 5: Triggers + Flare Up's
Phase 6: The Healing Mindset
PLUS!!
3 bonuses that you will love and will take your HEALING to the NEXT LEVEL! The Pain Guide displays 20 of the most common pain points and the emotional links directly associated with each pain.
What Is Included in The Pain Free Process
For Less Than The Cost Of A Trip To The Supplement Store, You Can Have A

Tool For Life
The teachings inside the Pain-Free Process, when applied, can literally change your life, all for just $197! This is LESS than what most people spend in a month on supplements and treatments that barely make a difference to their pain levels.
Don't Get Stuck In The Pain Loop!
People all around the world are stuck spending thousands of dollars on treatments and supplements that aren't helping, I call this the Pain Loop. If your pain starts in your MIND, no treatment or supplement can shift that. Each failed therapy leaves you feeling more and more desperate and broken. The Pain Free Process is here to help you break this cycle.
This work has helped countless people find the root cause of their pain and heal from the INSIDE out!
You can be one of these self healers too!
Our 100% 30 Day Money Back Guarantee
So you can rest easy at night.
Our #1 priority is ensuring you have an amazing and transformative experience. This program will work for you, if YOU work for it. But by the end of the program, if you are not 100% happy, your money will be refunded 100%. The only condition is that you have done the work; you have viewed and gone through every single module inside the course and submit a completed printed cheatsheet that you have worked through at least one pain with.

This is not the kind of program you can just sit back and absorb information, it requires you to look within and do the work. I guarantee that if you show up, you will get the results you are looking for.
Find the emotional cause of your pain so you can live pain free
(Sign up and receive $300 off your purchase)
I know this program is for me, but I am not sure I can afford it
I am worried that being doing this work it will bring up old trauma.
How long do I have to complete this course?
I don't have any pain right now, will the Pain Free Process benefit me?
What if I am not if pain but have a different condition that I want to work on?
Will I get the support that I need to learn and implement this work?
I am already in many other programs and courses, should I join?
I still have a question, where can I get in touch?
Meet Jake Currie
Ba. HSc. M.Clin.Chiro
Chiropractor, Hypnotist, and Founder of Mind Body Masters
Growing up in constant pain, I became a chiropractor to find answers to my own troubles.
While practicing I made a great discovery of what the real cause of pain (and other chronic illness) was - it all started in the mind.
I realized that physical pains and problems were not physical at all but emotional. What stood in the way of my own healing was not a lack of some supplement or treatment, but the emotional baggage I held onto.
Once I was able to deal with the emotional root cause, my body started to heal.
In 2018 I decided to stop practicing and sell my successful private practice in Noosa, Australia to pursue helping people heal from the inside out.
I now help thousands of people all around the world tap into this healing ability by mastering their mind-body connection.

Will you be next?
Find the emotional cause of your pain so you can live pain free